EASY, BEST-EVER DARK CHOCOLATE CAKE RECIPE WITH ORANGE MASCARPONE FROSTING
Cake-baking is a bit of a dying art. Back in the day, it was a common occurrence to end a family meal with a homey layer cake, piled high with swirly frosting. These days, the idea of tackling a layer cake can be a bit daunting, but I promise it's so worth it and a lot easier than you'd imagine! This cake recipe comes from a pastry chef friend of mine, who says this is her go-to recipe. I recently used the cake recipe for my son's birthday, and if the chocolate spread across his face from ear to ear is any indication, it was a hit.
The chocolate cake is indulgently dark, rich and moist. Bonus, it's also incredibly easy to make. It's a one-bowl, one-whisk recipe that's practically foolproof. There's no monkeying with alternating between wet and dry ingredients, but no sacrifices are made as far as taste or texture. Topped with a tangy, creamy and sophisticated orange-infused mascarpone frosting, this may just be the perfect way to end a meal or celebrate a special occasion. *cough* Mother's Day *cough*
For decorating inspiration, visit our pinterest page. https://www.pinterest.com/fttbm/f-l-o-w-e-r-%2B-f-l-o-u-r/
I ultimately went with a very simple decoration of kumquat branches and chamomile flowers, but this would be a great opportunity to do a little experimentation with edible flowers. The white frosting would provide a blank canvas for bright flowers such as pansies or lavender. Just remember when buying edible flowers to go for those grown organically, in order to avoid pesticides. Another tip: cut the flowers from their stems as close to decorating and serving time as possible; no one wants wilting blooms on their cake!

1 ¾ cups all-purpose flour
1 cup granulated sugar*
¾ cup unsweetened cocoa powder
2 teaspoons baking soda
1 teaspoon baking powder
1 teaspoon salt
2 eggs
1 cup hot chocolate
1 cup buttermilk
½ cup vegetable oil
1 teaspoon vanilla extract
*Note: I like to keep the sugar low for the kids, however, if you like the real deal, increase to 1½ or 2 c. of sugar.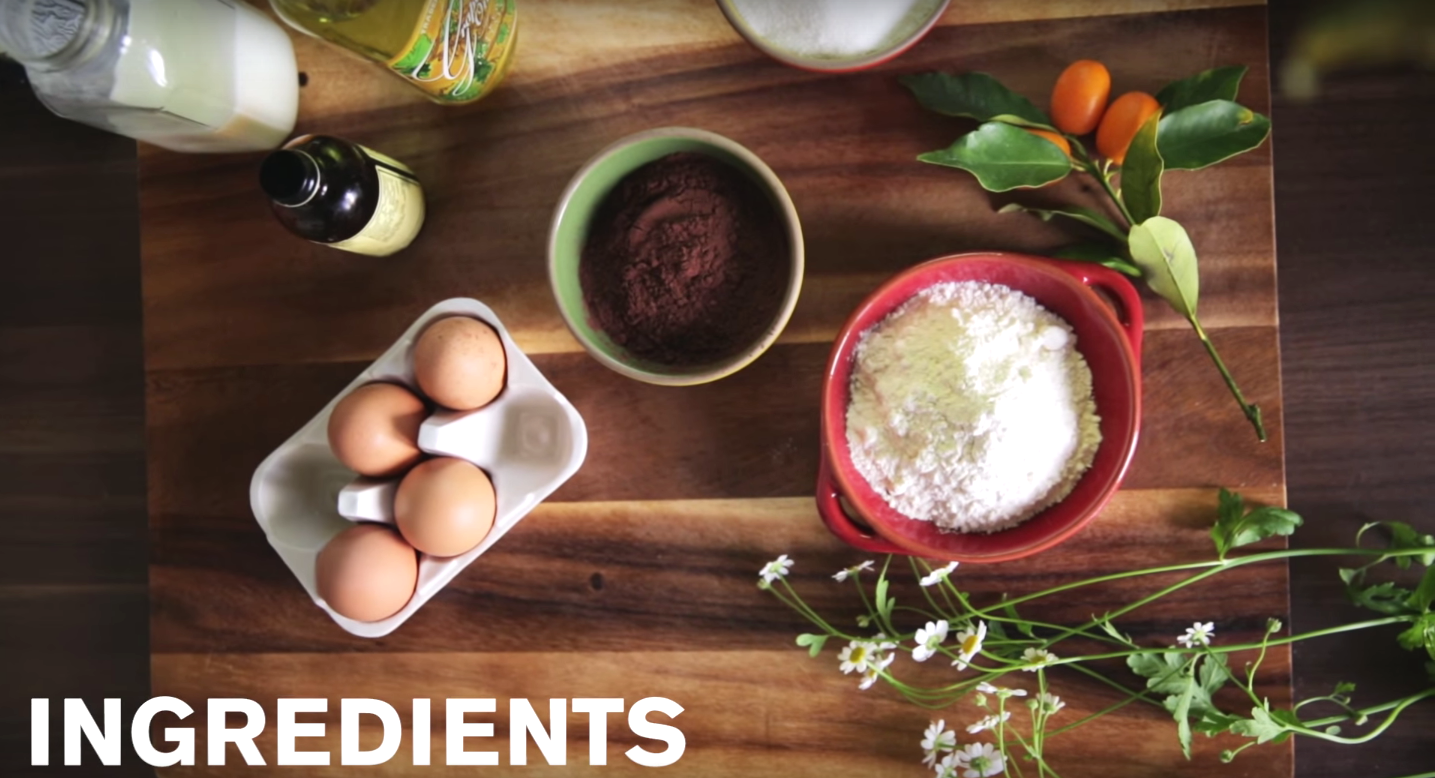 1
Preheat oven to 350 degrees F. Butter two 8-inch round cake pans (preferably springform for easy removal later) and dust with cocoa powder.
2
In a large bowl, whisk together flour, sugar, cocoa powder, baking soda, baking powder and salt.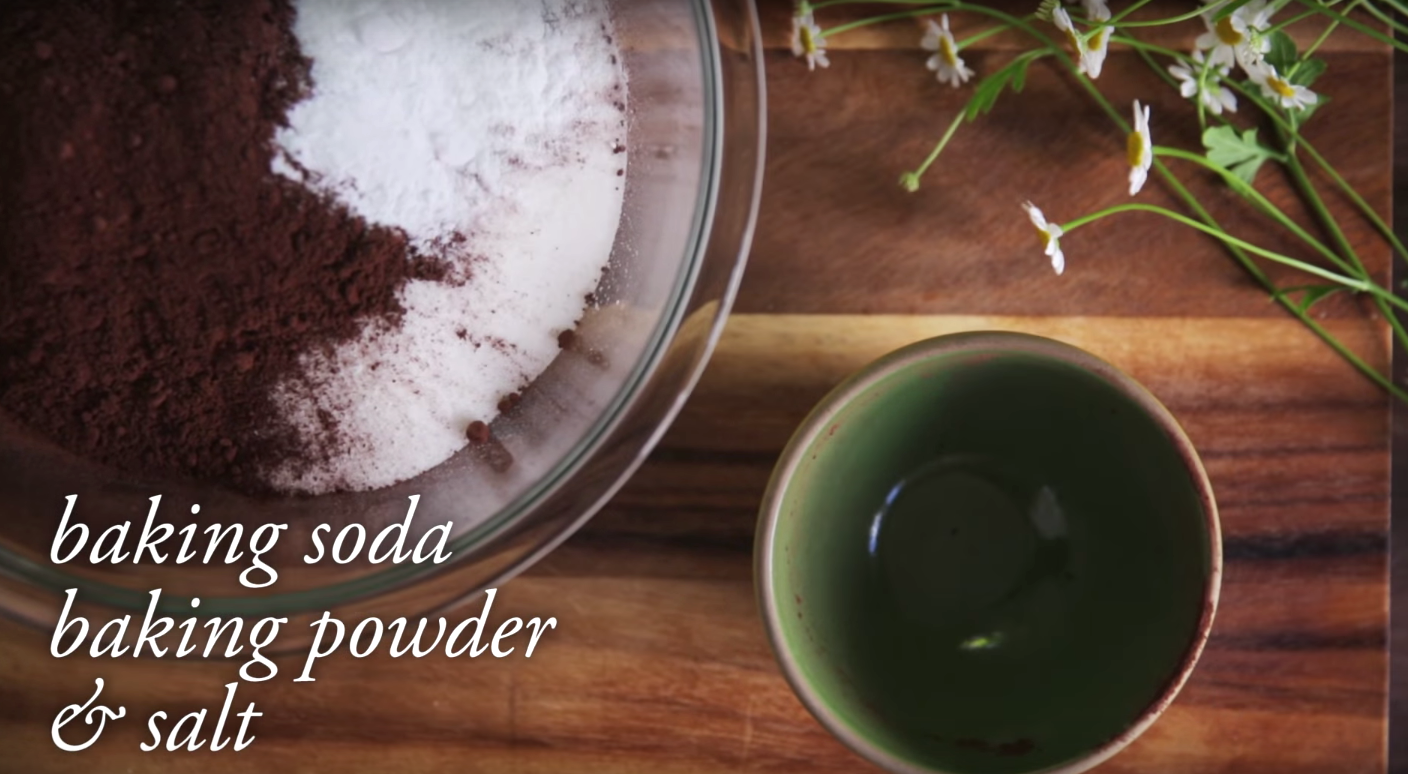 3
Make a well in the center of the dry ingredients. Pour in eggs, hot chocolate, buttermilk, vegetable oil and vanilla extract. Whisk together until combined. Divide evenly between prepared cake pans.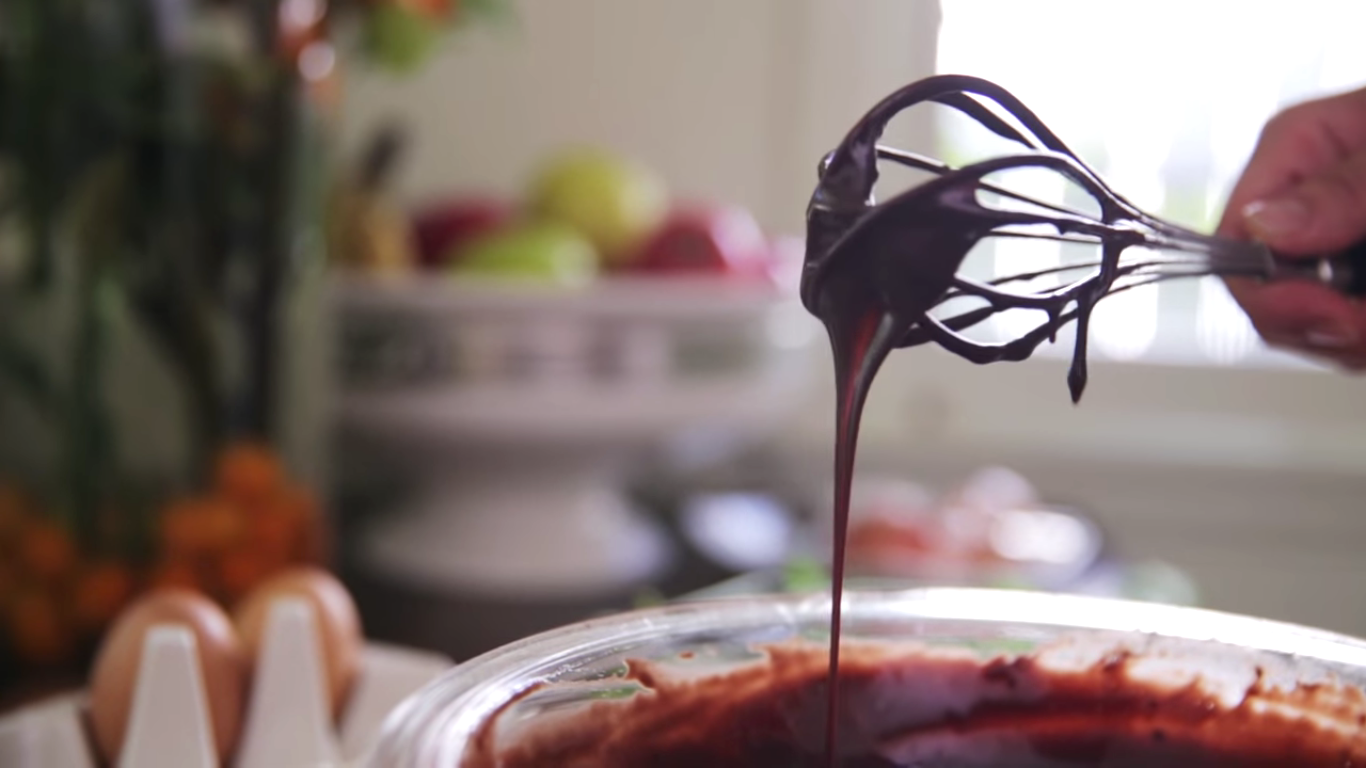 4
Bake for 30-40 minutes until a toothpick inserted into the center of the cake comes out clean. Cool on a wire rack.
ORANGE-INFUSED MASCARPONE FROSTING
Peel of 1 orange
1 cup heavy cream
8 ounces mascarpone cheese, at room temperature
½ cup confectioners' sugar, sifted (more or less, to taste)
1
Place cream in a saucepan over medium-low heat. Add orange zest to the cream and simmer for 2-3 minutes, until the cream has taken on some orange flavor.
2
Take cream off the heat. Remove zest with a tongs or by straining the cream. Discard zest. Allow cream to cool a bit before placing in the refrigerator until completely chilled. (Note: The cream must be chilled before it can be whipped – step 3.)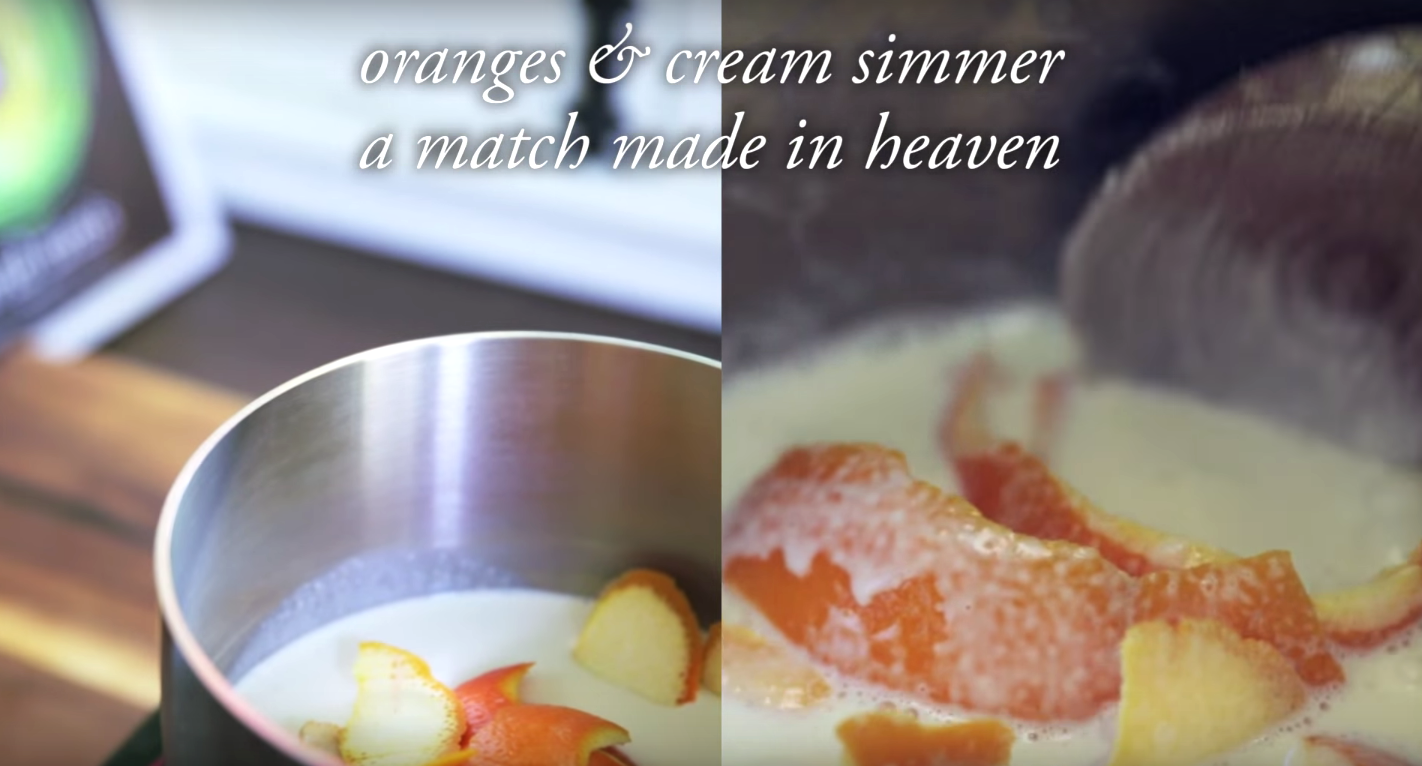 3
With an electric mixer on medium speed, beat cream just until very soft peaks form. Watch the texture in the video, be careful not to over whip the cream.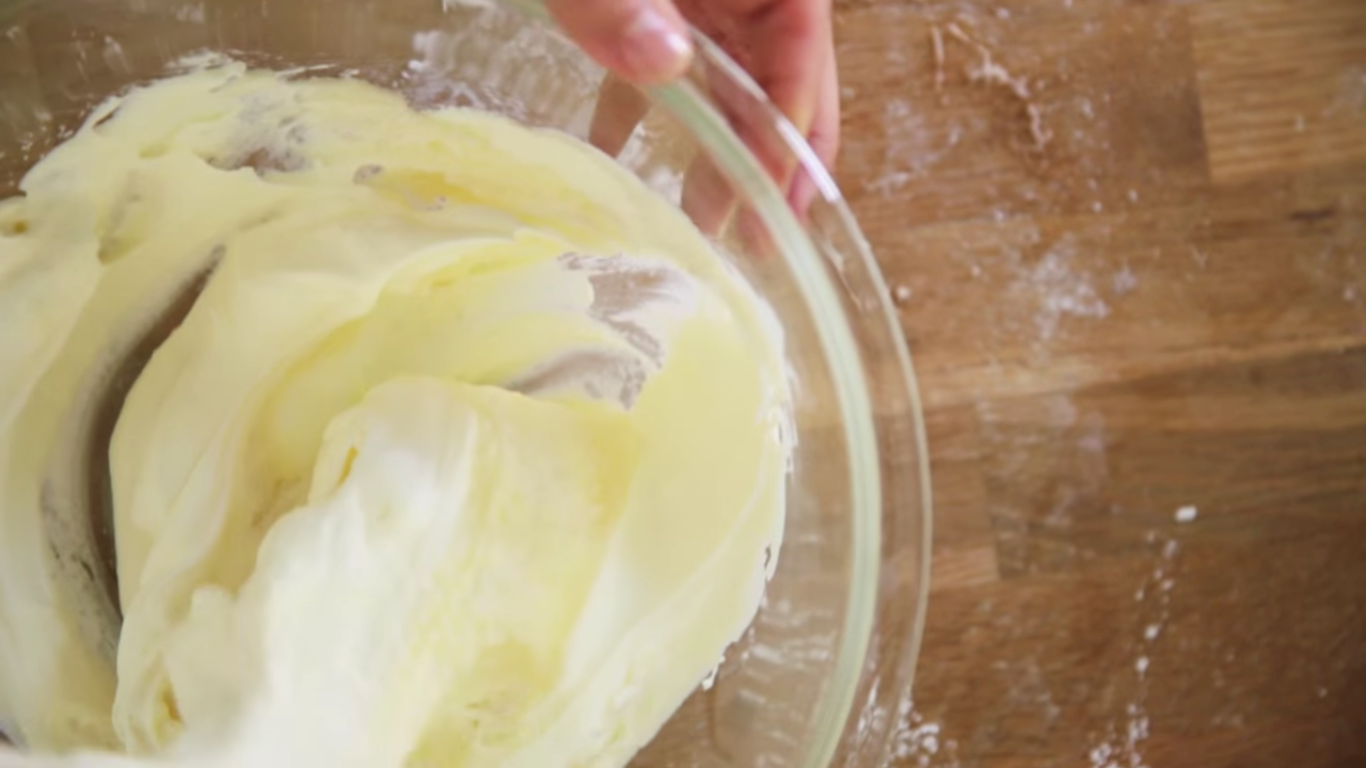 4
In a second bowl, beat together mascarpone and confectioners' sugar until smooth and creamy. Fold cream into the mascarpone mixture until incorporated. Frost cake as desired.