Chicken & Cabbage hot pot
Hot Pot is one of those rare dishes that straddle the line between meal and activity. A steaming pot of rich and savory broth is cooked over a portable burner in the middle of the table. Then various meats and vegetables are added into the broth to cook, each adding another layer of flavor to the final dish. By the time it's done, you've had so much fun assembling it that it wouldn't matter much how it tasted, but it also just so happens to be crazy delicious: the perfect balance of savory, earthy, and salty.
I was lucky enough to get this recipe from Naoko Takei Moore, an expert on donabe cooking. A donabe is a Japanese earthenware pot, designed for cooking over an open flame. While it works perfectly for this application, it's not a necessity for a delicious hot pot. The dish can easily be cooked in a heavy pot, and the recipe is well-suited to experimentation; feel free to substitute in your favorite vegetables. But whatever you do, be sure to save your leftover broth. It makes the perfect base for a savory and creamy rice porridge dish that will knock your socks off. (Check out the FTTF porridge recipe)
Bon Appetit!

8 oz boneless skinless chicken thighs, cut into bite size pieces
½ tsp salt plus more for serving
4 ½ cups dashi broth (or chicken or vegetable stock)
½ head napa cabbage, cut into strips crosswise
2-3 oz. burdock root, shaved into thin 2"- long pieces, soaked in cold water for at least 1 and no more than 5 minutes, then drained
8 baby carrots, cleaned and cut in half
1 package firm tofu, cut into 1" cubes
2 oz. oyster mushrooms
3 oz enoki mushrooms, trimmed and pulled apart
1 bunch long spinach
½-1 tbsp sesame oil
Optional: condiments such as ground roasted sesame seeds (for crunch), yuzu kosho (for bright, citrusy heat), kanzuri (mellower heat, full of umami) or sansho (for tingly tastebuds)
Special equipment: donabe (Japanese earthenware pot) or dutch oven or heavy-bottomed wide pot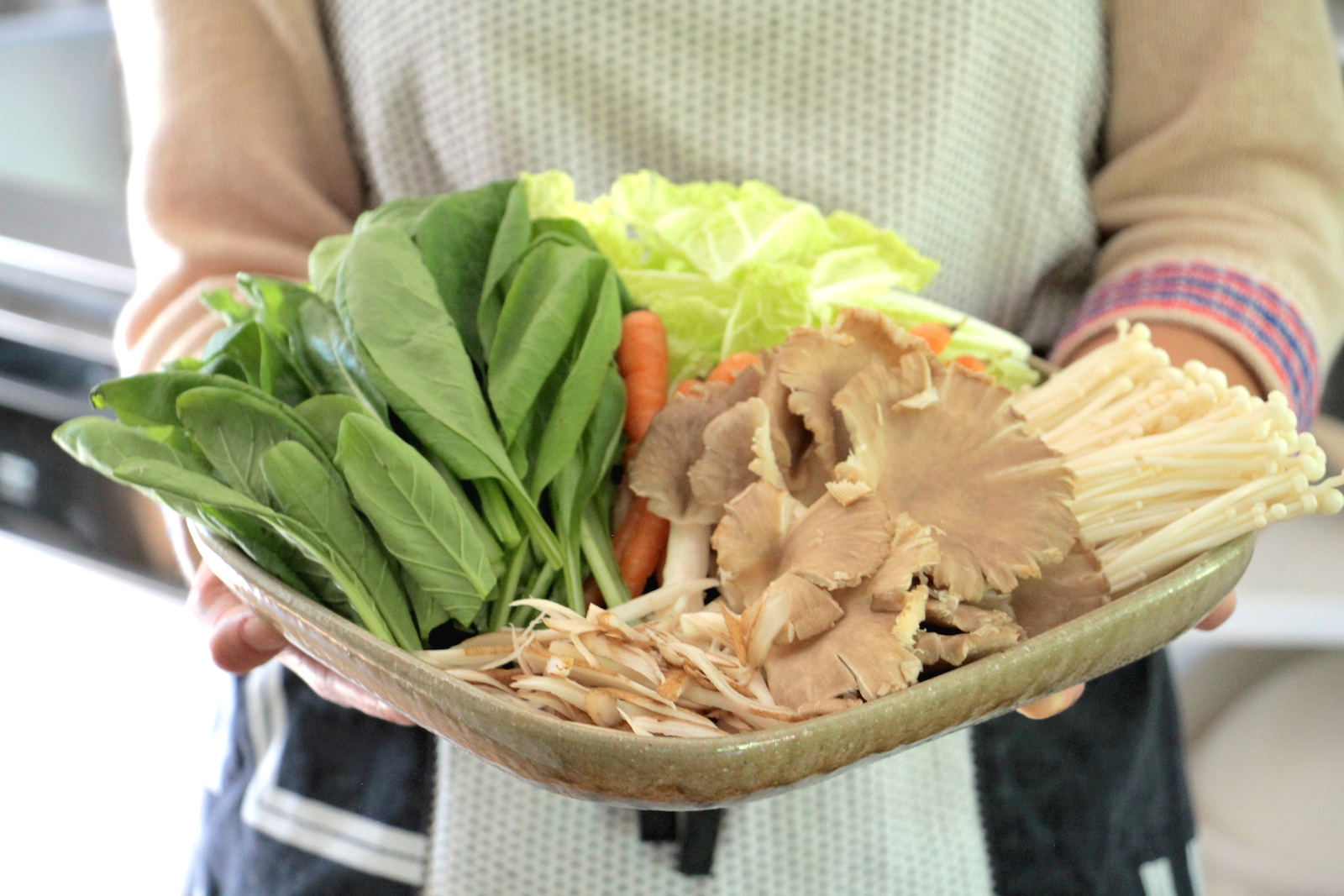 1
Season chicken with salt. Let marinate 15 – 30 minutes.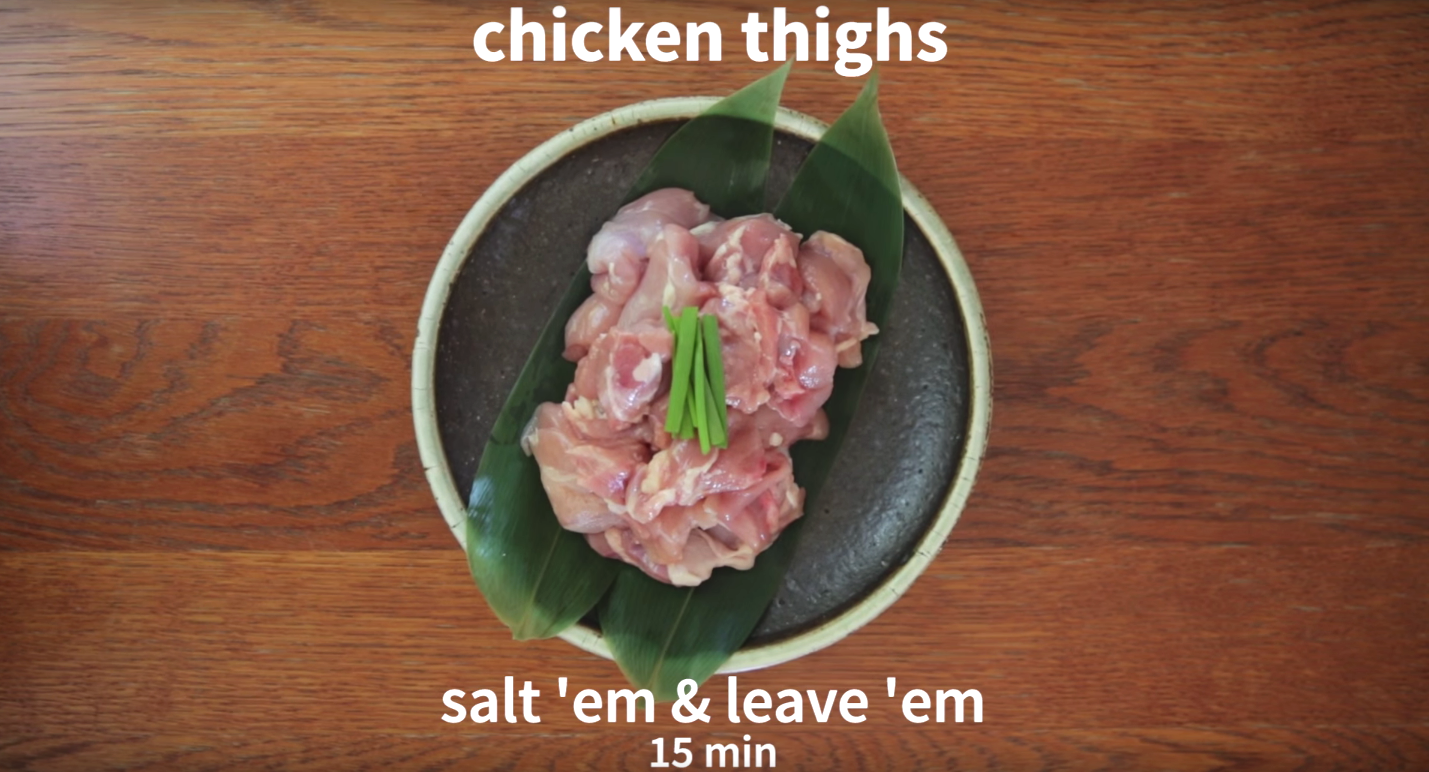 2
Transfer broth into the donabe and cook over medium-high heat until it simmers (The cooking can be done over a portable burner at the table, or on the stove). Turn down heat to medium low to maintain a gentle simmer.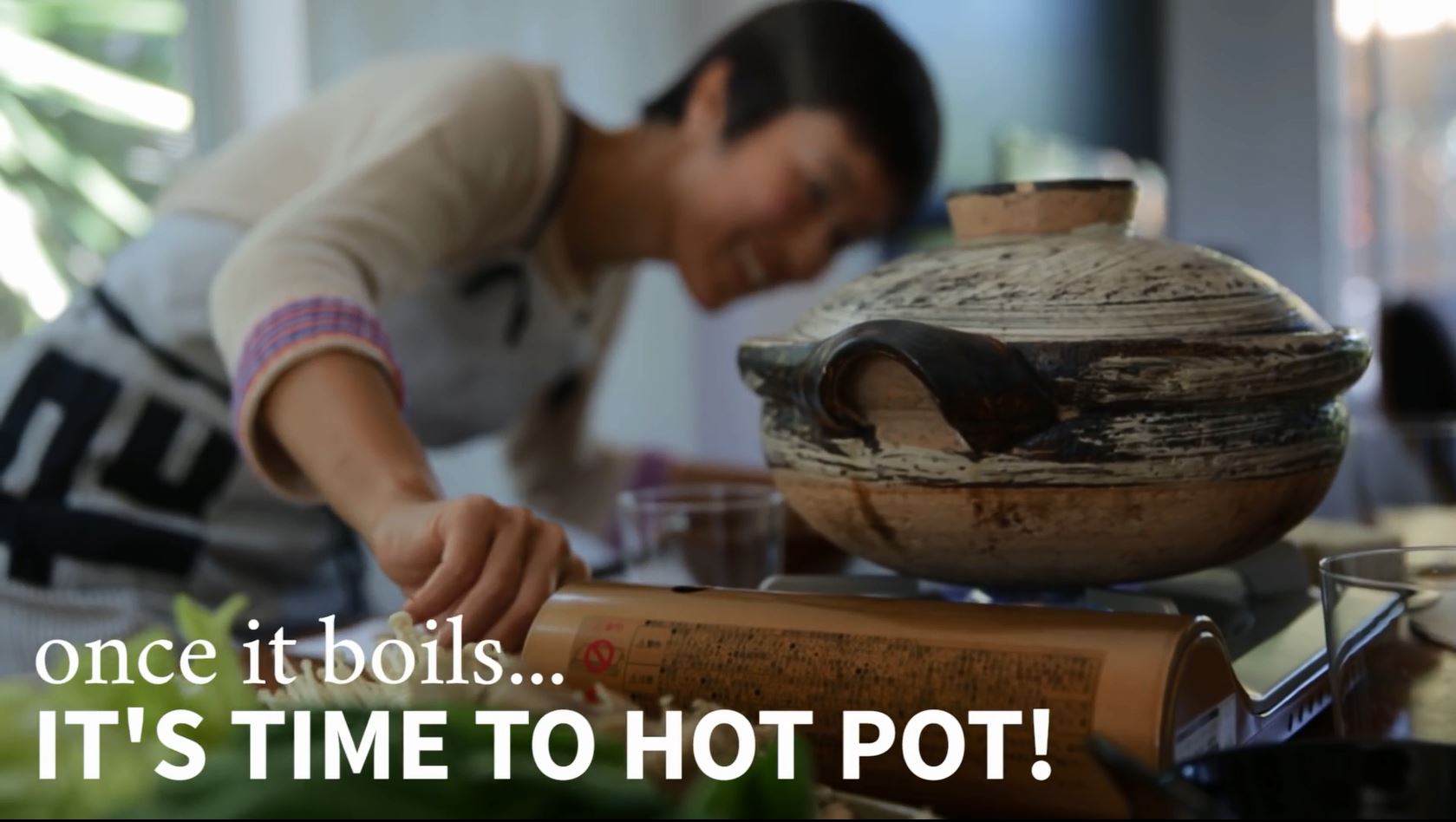 3
Add in cabbage, cover and simmer 10 minutes.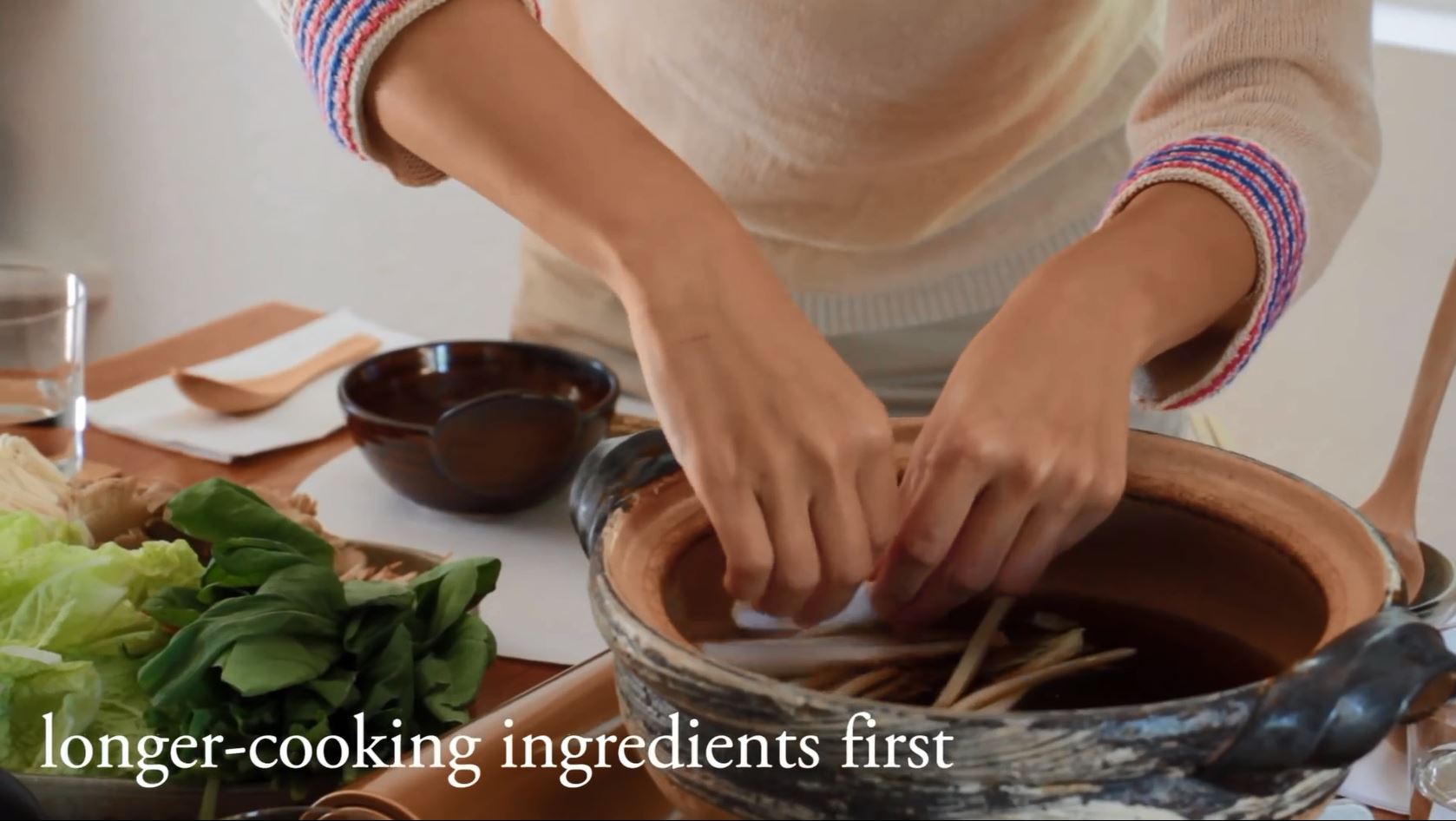 4
Add in chicken, burdock root, carrots, tofu and oyster mushrooms. Cover and simmer 20 minutes.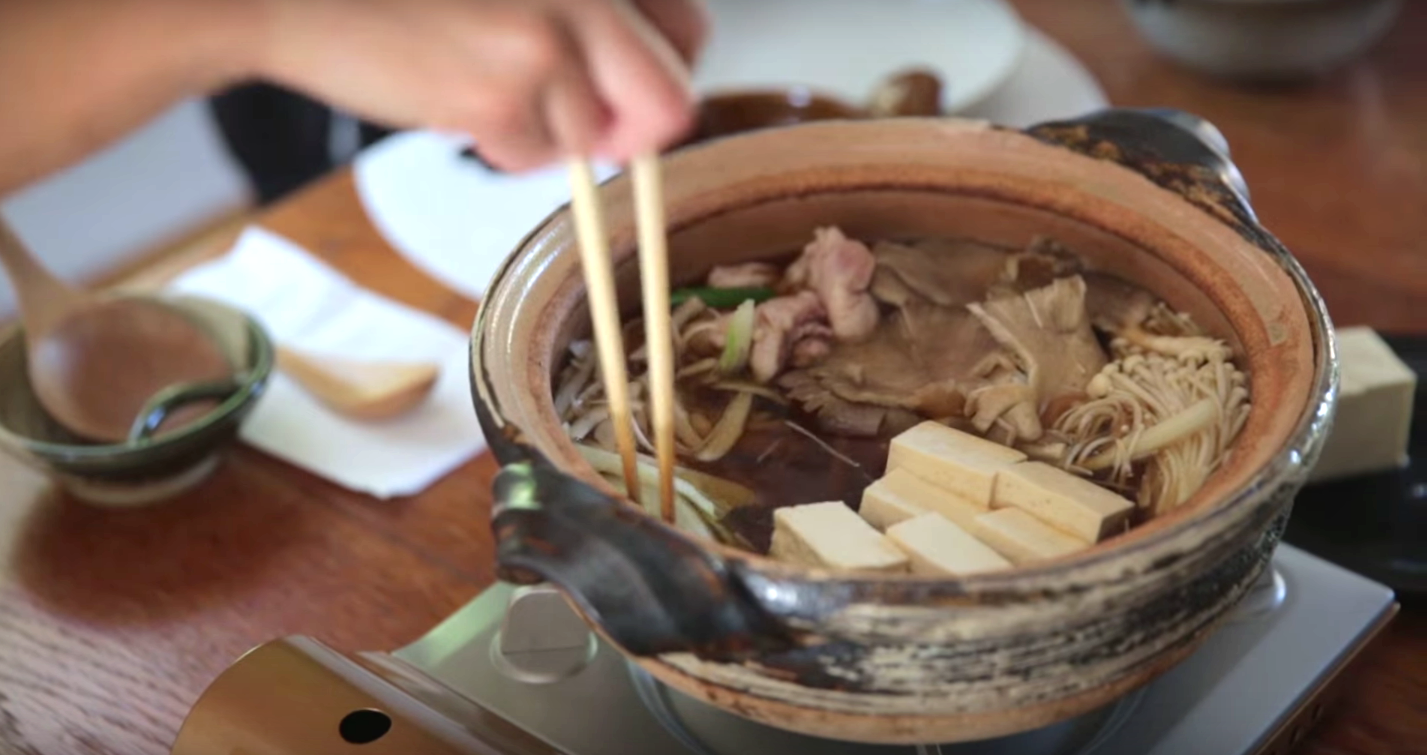 5
Add enoki mushrooms and long spinach to pot and cook an additional 1-2 minutes, until spinach has wilted slightly.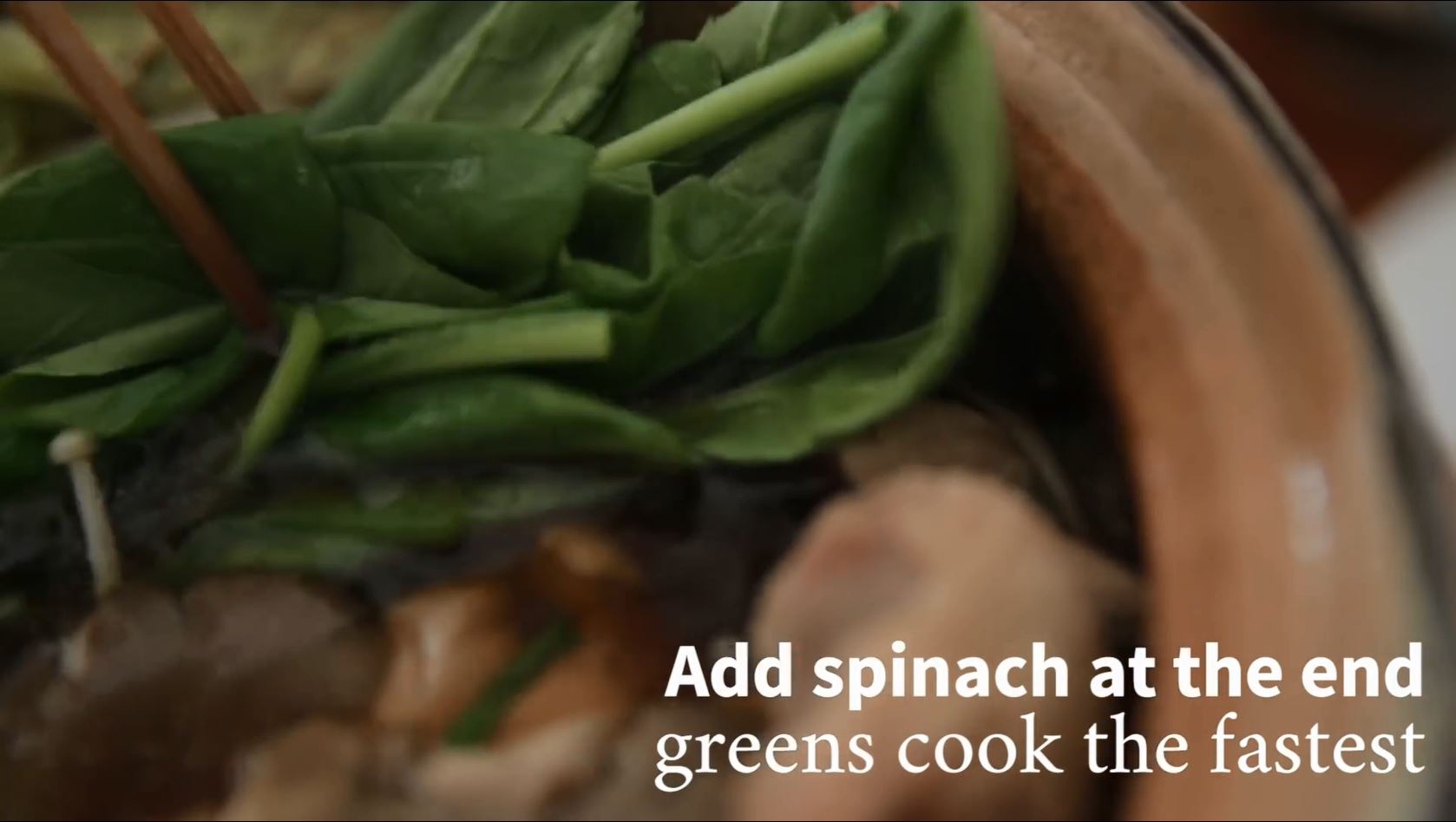 6
For serving: Place a pinch of salt in the bowl before ladling broth and vegetables in. Top with a drizzle of sesame oil and condiments, if desired.
7
TIP: Be sure to save your leftover broth for a delicious and savory rice porridge dish!