Kimchi is addictive. It's a Korean dish of raw veggies (cabbage is common) fermented with garlic and a variety of spices. My mother-in-law makes some of the best kimchi I've ever eaten. It's got that spicy, savory, sweet, mouth-puckering, can't-quite-describe-it quality that keeps you coming back for more.
Need further proof of kimchi's awesomeness? See exhibit A, my son Patrick's all-out obsession with it. Once when he was about 2 or 3, I found him on the kitchen floor, chomping on cabbage directly out of the kimchi jar…He's definitely my son. When I was a kid, I was often caught sneaking bites of Claussen pickles too!
Whenever we can exercise the self-control to stop eating kimchi directly out of the jar (not often), we like to cook it up, especially when it's had a longer time to ferment. The longer you keep kimchi, the stronger and more complex the flavor becomes, tasting saltier and a little sour. At this point it is often at the perfect stage to be cooked in a dish. Our favorite way to use it as an ingredient is through Kimchi fried rice. It's one of our favorite comfort foods, marrying the satisfying comfort of fried rice with the punchy bite of kimchi. I like to throw some toppings on there from time to time (A fried egg, a bit of seaweed, sesame leaves and fish roe are my favorites), but it's quite delicious as-is.

3 Tbsp vegetable oil
1/2 cup chopped scallions
1/2 cup diced ham
1/4 cup chopped mushrooms (optional)
1 cup chopped Kimchi (The older the better! Fully fermented kimchi has deeper flavor.)
3 cups rice (room temperature)
3-4 Tbsp light soy sauce
2 Tbsp sesame Oil
½ cup kimchi juice from the jar
Toppings (optional):
4 Eggs
4 Tbsp vegetable oil (if making eggs)
Sesame leaf and seaweed, sliced thin
Fish roe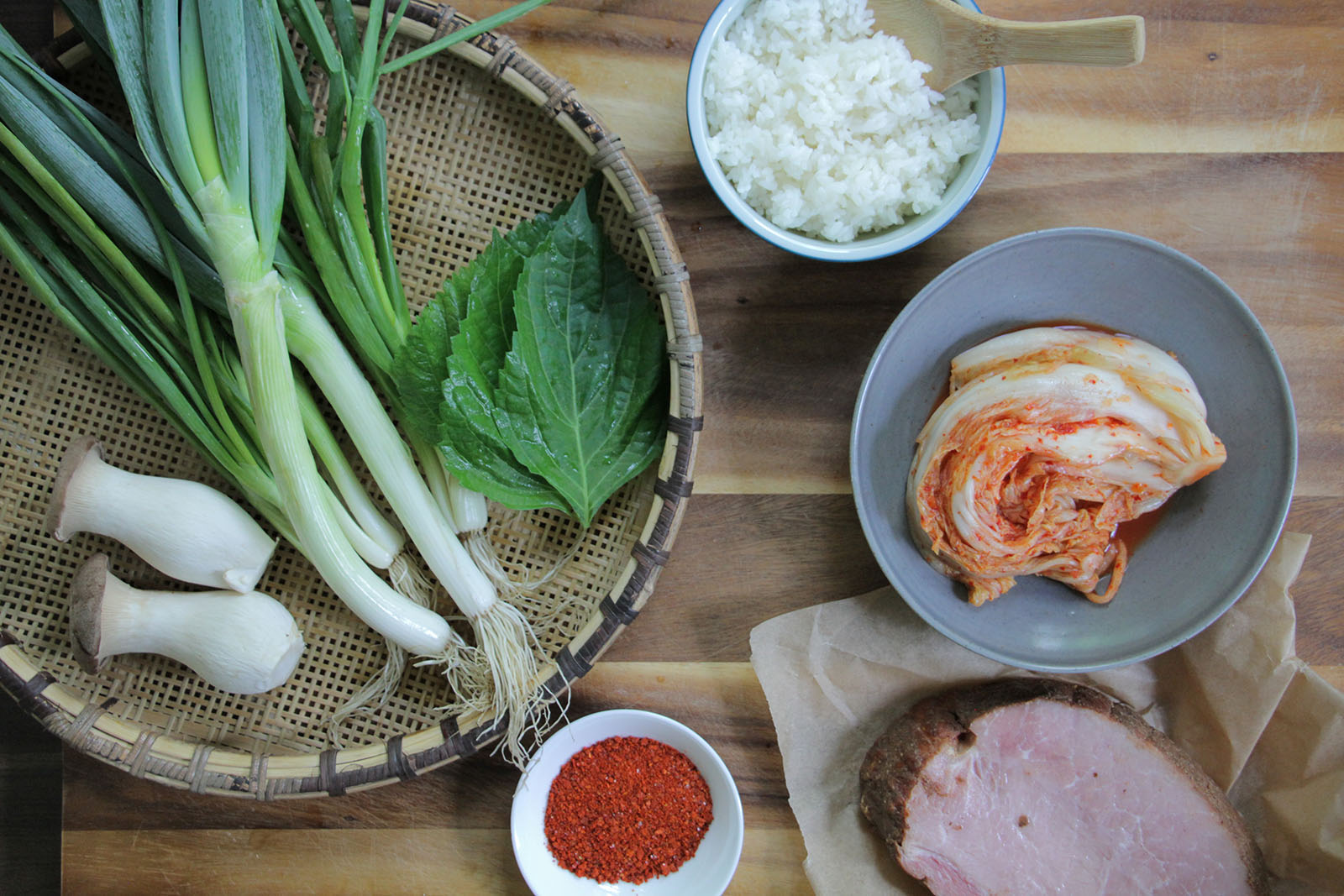 1
Heat vegetable oil in a large pot over medium heat. Add scallions and cook until tender. Add mushrooms and ham, and cook for one minute.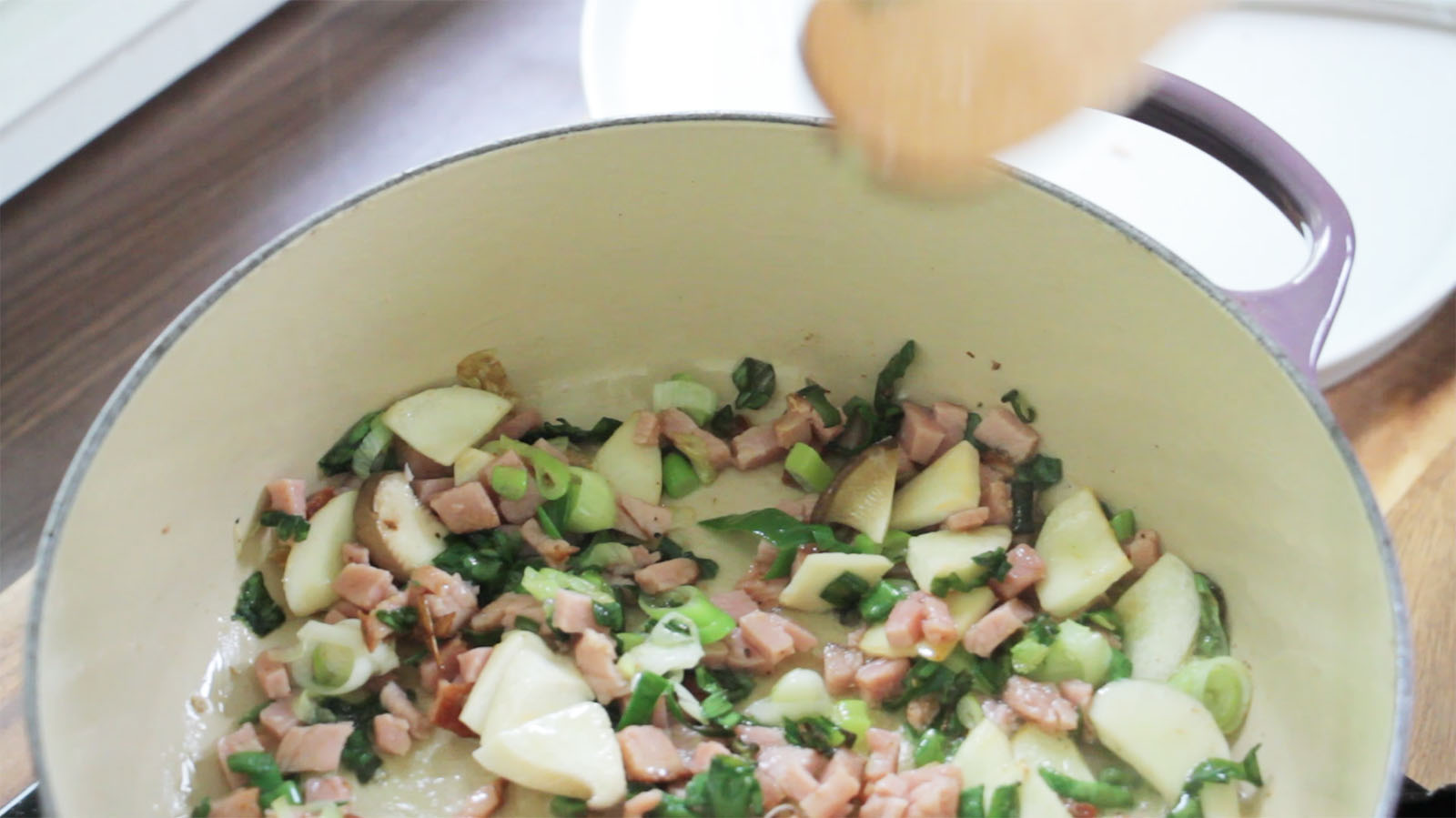 2
Add kimchi to the pot and cook, stirring constantly, until the mixture has taken on a deep rusty orange color and ham has started to brown in spots.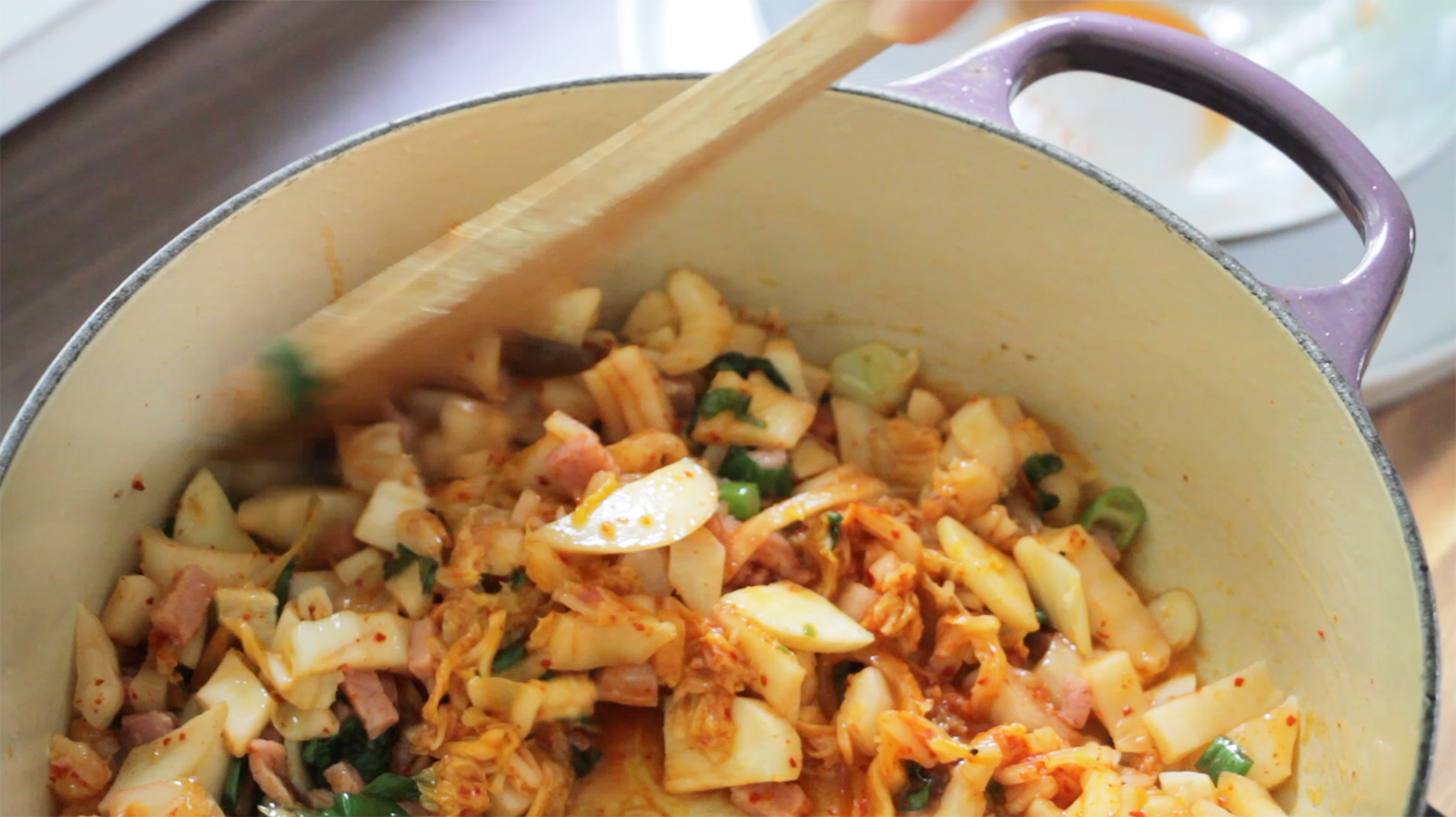 3
Add in the rice, stirring thoroughly to combine.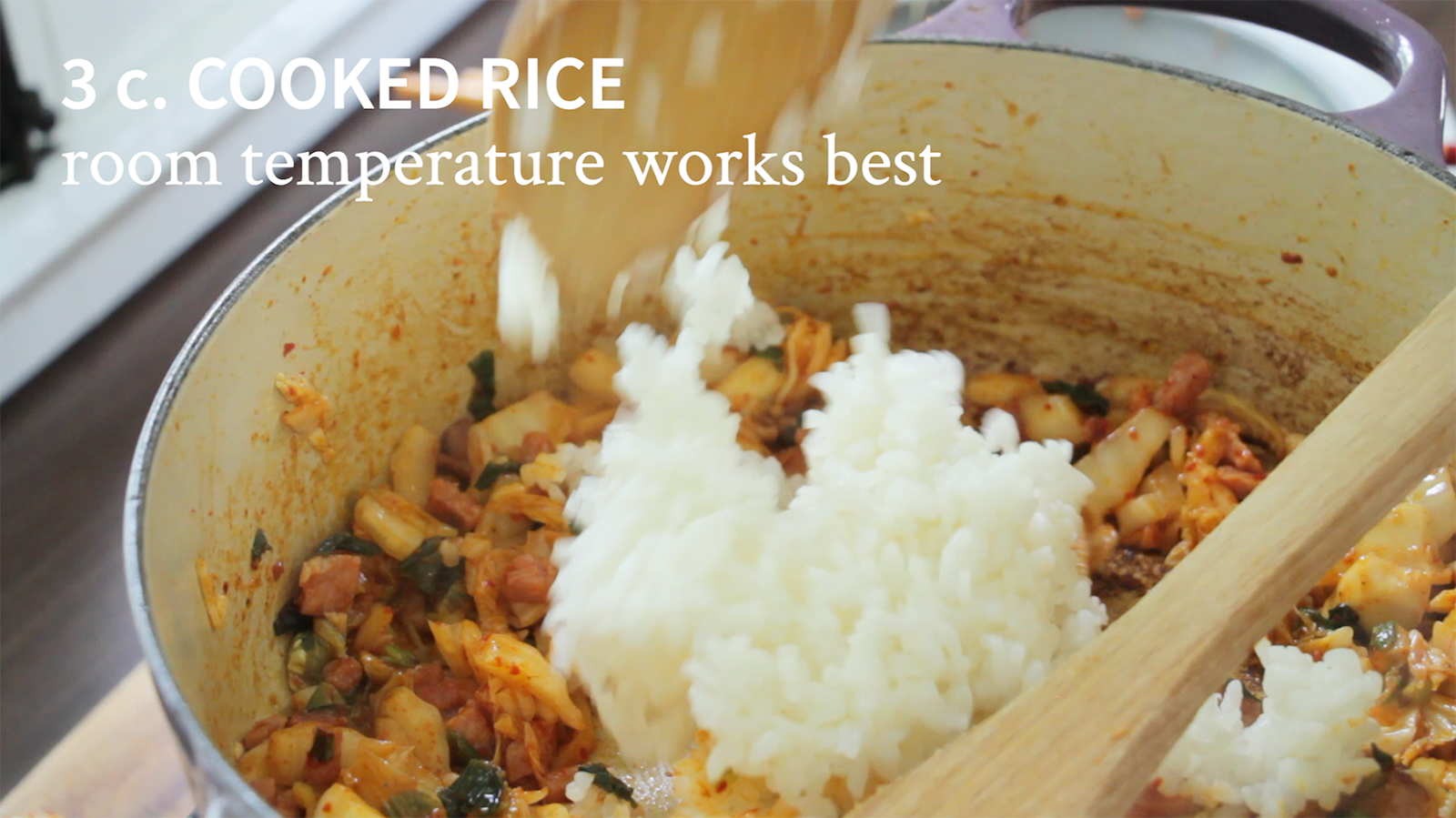 4
Stir in soy sauce and sesame oil, adding more or less to your taste. Add in kimchi juice, stirring until combined.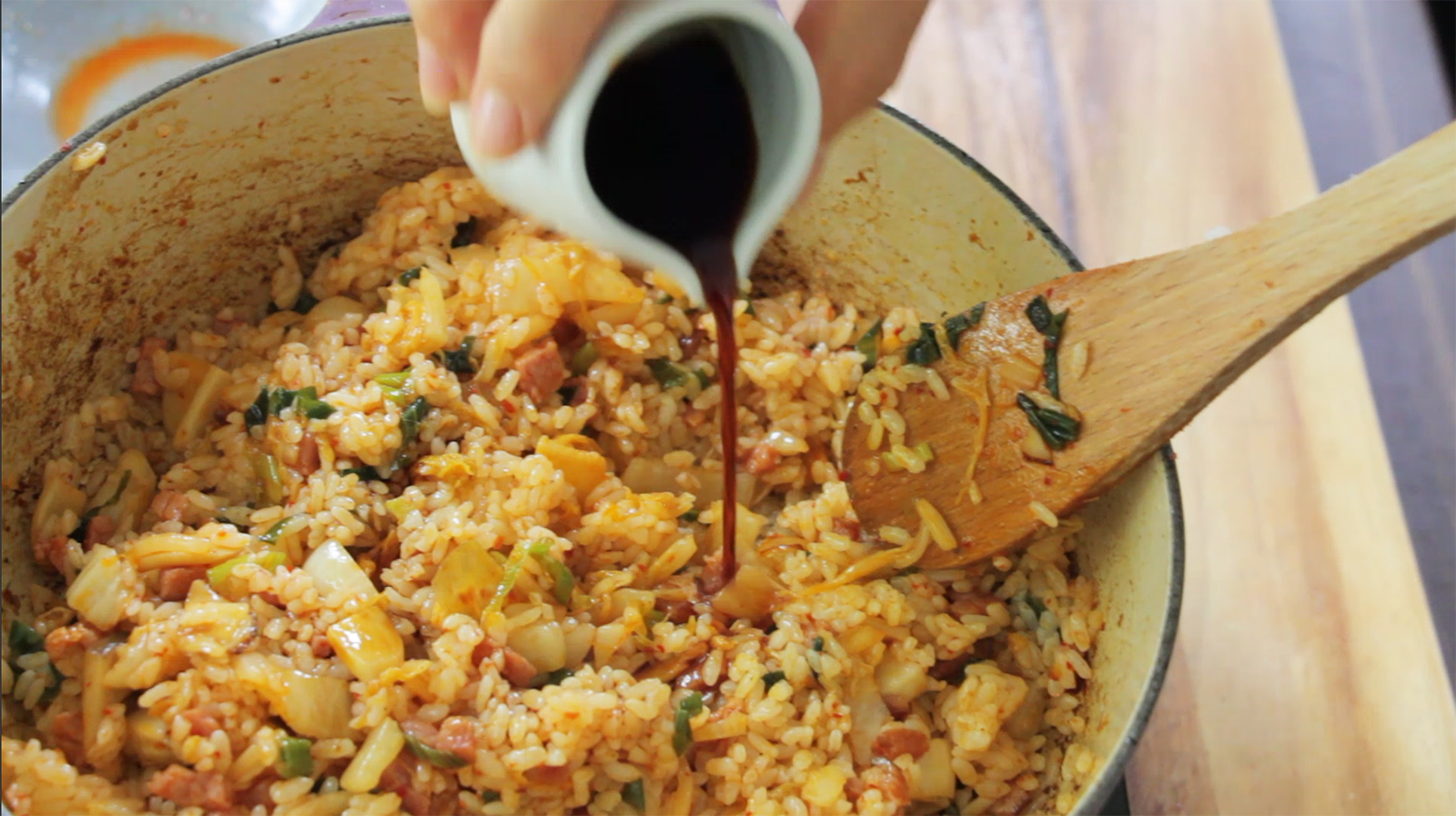 5
Serve in bowls with optional toppings.